Our brand was born from a thirty-year-long experience in an historical jewelry lab located in the center of Milan, and in each component produced, the true essence of the "Made in Italy" ideal can be found.
For this reason, all of our creations are realized in Italy by Italian goldsmiths and designers. Andrè Malraux used to say: "Each creation is, from its very origin, the battle between a powerful form and an imitated form".
The noble Di Gregorio family shows, through their jewelry, the unstoppable entrepreneurial ability to make unique jewels in their forms and colors. This ability lies in their DNA, coming from the Sicilian grandfather who launched a multi-brand concept store in the 80's, with a floor solely dedicated to jewelry, in which Giovanni Di Gregorio cultivated and grew the passion, and subsequently his experience, in jewelry and precious stones
The sea, the smells, the shades, the joyfulness and the taste of a land called Sicily, have been the muse of the Di Gregorio family for years. All this reflects in the colors of the stones, in the macro emeralds of the collection "Segesta", in the contrast among amethysts, sapphiresand emeralds in the "Scopello" collection, in the turquoise cabochon of the "Marzamemi" collection. This is why every single jewel says something, and encloses values and traditions. Traditions that dart towards the future in search of newer technologies which mix the antique goldsmith tradition to an advanced creative system.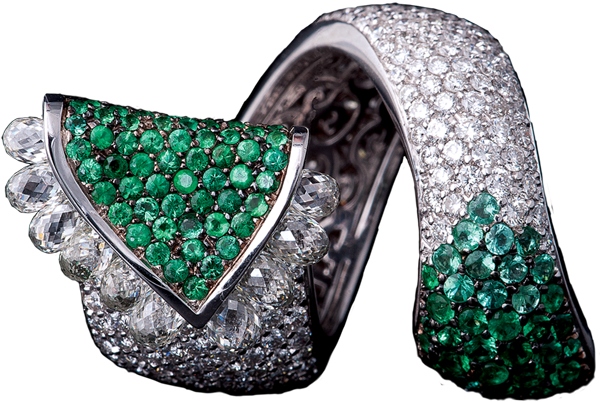 "Big things are the sum of many small things".
Giovanni Di Gregorio and his wife Laura started their journey from here, in little calm, passionate and dedicated steps, which in seven years brought them to launch an actual brand of high jewellery.
In fact, the Di Gregorio's, who began their career in the Brian & Berry building in Milan, already find their position among the high-range brands.
"never create based on the sale and the profit, but only based on what I like.
So far we have focused deeply on the locations, always different. Ours is a sartorial elegant jewel, 100% made in Italy, but we are not for everybody and the customization is what makes one of my pieces unique and exclusive."
Between infinite collections and numerous works of art, all handcrafted, more "easy-towear" lines can be found.
Everything comes from a cooperation with young, dynamic art and beauty lovers, which irradiates the maximum creativity and passion, reaching a joint goal....amaze.
In addition to this, Di Gregorio dedicates his more demanding clientele a numbered collection of exclusive and unique jewels.